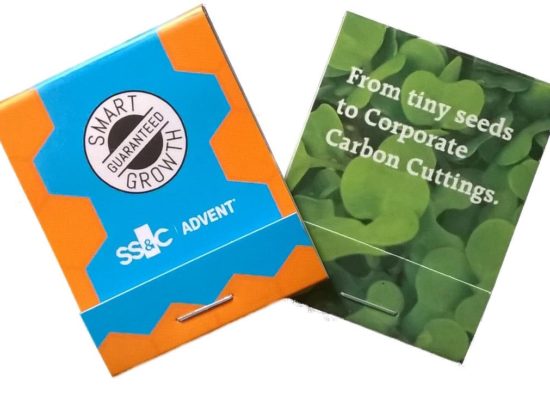 Details
Our eco-friendly Promotional SeedSticks® make a great little promotional giveaway.
Designed around the same format as a book of matches, they measure just 38 x 47mm and incorporate five sticks with the chosen seeds glued to each head using a non-toxic glue
The minimum order qty is 1000pcs.
Prices from £0.85 (excl. VAT) each including 4 colour printing both sides with the inner featuring clear and step by step growing instructions.
Delivery and screen charges additional.
Request a Sample
Pricing
| Quantity | Unit Cost |
| --- | --- |
| 2500 | £0.82 |
| 1000 | £1.40 |
Features & Specifications
| | |
| --- | --- |
| Dimensions: | N/A |
| Lead time: | 5 weeks |
Testimonials
"

The Stockholm Writers Festival is a non-profit, so we look to buy the smartest products with the most impact. And Nexus Collections had them! Beyond that there's the customer support Nexus delivers. Molly guided us in selecting what we needed for elevating our branding. And followed our order meticulously to ensure it arrived safe and sound with every item rendered perfectly. We'll be back for our 2020 event!

"

Catherine Petterson – Stockholm Writers Festival

"

It has been an absolute pleasure to work with the Nexus team. From start to finish, Jacqui and her colleagues have gone the extra mile to make sure that our order was perfect. The congress bag is such an important factor to get right in terms of the image of the brand and with the help of Nexus we have a really superb bag to give to our delegates!

"

Claire – Munich

"

I have used the very helpful services of Nexus Collections for over six years now for a number of medical congresses that I was responsible for. We started with lanyards, then proceeded with with the customized bags, changed the lanyards, and have now decided on the new Butterfly badges. During all those years, Nexus employees have been very friendly, fast in responding to our requests, and very professional. I appreciate Nexus' Team's flexibility while efficiently dealing with our changing requests. Their offer is constantly updated with the growing demands of the industry. I would like to thank you for your cooperation in the past, now, and in future!

"

Maria Tsiplakova Voegeli, IDKD Course Manager

"

The GOTO Conferences have been working with Nexus for more than five years and we keep coming back because the service we get is superb, orders are always delivered on time and the products are good quality.

If the things we want are not in stock Nexus helps us find the right things and they customise our bags to fit our ideas, needs and budget.

"

Marlene Staunstrup Hyldborg, Conference Manager, Trifork

"

We have used Nexus many times for a variety of different things from delegate bags, lanyards and even branded ponchos, which is a must when delivering any event in Scotland.

Jacqui and the team are very helpful and provide answers to our many questions in a timely manner. The service we receive from the initial enquiry through to product delivery is fantastic. Highly recommended!

"

Ashley Cook, MCI Glasgow, 2017

"

We have been using Nexus Collections for our Delegate bag production and also their service for inserting company marketing materials into the bags for the last few years. We have found the quality of their product fantastic and their professionalism on assisting with inserts great. We will continue to use and recommend Nexus Collections to any other conference organiser.

"

Simon Haroutunian, Informa UK